Accommodation with dog in Sumava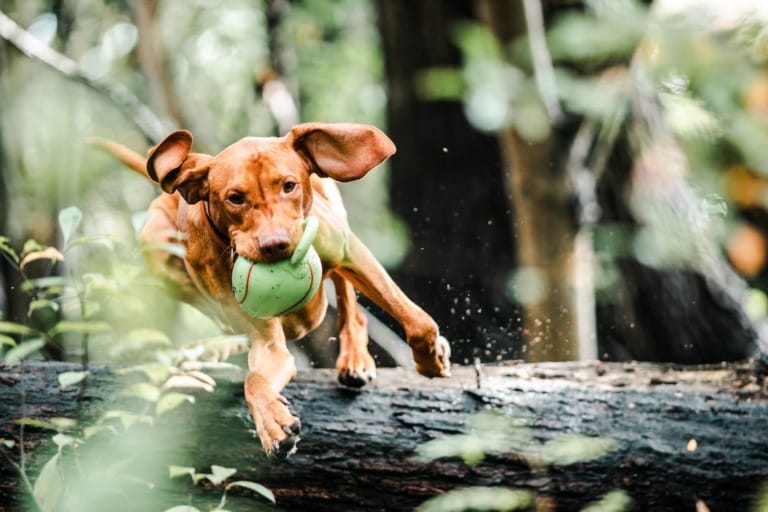 Can't imagine a holiday without your dog? Then you have come to the right place, especially if your dream destination for accommodation with your dog is the Sumava. Pension Sněžná is dog friendly, which means that you are welcome to bring your canine companions, just ask for it in advance when booking. The fee for dog accommodation is 300 CZK per night.
If you like to have breakfast with your dogs, it's not in the dining room where the food is served buffet style and other guests who don't like dogs (yes, there are some) or are afraid of them might not be comfortable having breakfast with their dog, just talk to the manager and he will allow you to have breakfast with your dog in the common room.
Around the guesthouse is a garden with a fireplace, which is available to guests during the warmer months and certainly your dog will love to run around it. The green lawn partially covers the backyard, which is a testament to the agricultural history of the house.
You can go for short or long walks with your dog from our guesthouse, just choose according to the age and condition of your pet. How about the Golden Trail avenue full of memorable trees and further to the lookout under the Kamenáč hill, which lies northeast of Volary. It's about 2.5 km with an elevation gain of 130 metres and you and your dog will enjoy it. Or you can head southeast to a place called Na Skále, which lies at an altitude of 1011 m above sea level and can be reached by various routes from 6 to 9 km with an elevation gain of up to 325 m. And there are plenty of similar hiking trails all around.
Holidays with a dog
Pension Sněžná is an ideal base for a holiday with your dog in Sumava all year round. In winter there is snow all around and which dog would not love to have a good time in the snow? There are beautiful trails all year round for wandering with your dog, whether you walk or cycle, and in winter you can even go for a run with a dog sled. Did you know that the leading Czech musher and breeder of husky and malamute dogs Pavel Kučera lives near Volary? Every Sunday, the Volary cynologists meet in the area above the former barracks, where you can exercise your dog or get advice on how to train it properly.
If you are planning longer trips, choose routes according to the season. Remember that, for example, asphalt, but also stone and pavement can get hot to over 60 °C on a sunny day. A trip on tarmac would not be pleasant for your dog, and more delicate dogs could even injure their paws. In the hot summer months, plan trips along field or forest paths where your dog will be more comfortable.
You can also take a train from Volary, but remember that in this case you should have a leash and a basket. The train station is only a few minutes from the Sněžná guesthouse and in a few more minutes you can reach Soumarský Most (6.1 km from Volary) or Lenora (9.5 km from Volary) and then walk back by a direct or circular route, depending on how tired you want your dog and yourself to be. When planning a holiday with your dog, remember that Šumava is a mountain range. Your dog also needs to rest, so long hikes every day might not be to his liking. Try combining them with shorter walks or playing around the guesthouse.
Anyway, if your destination is Sumava, you will find the right accommodation with your dog here.
.
Do you have a question or want to book a room?
We are happy to help you, contact us or make a reservation. +420 774 343 448
Volary Museum
It is founded by the town of Volary and is located in one of Volary's historic Alpine-style timbered houses....
See more
Suitable for cross-country skiing
Suitable for complete beginners
Difficulty
Light fortification building - Honzík
In the 1930s, fears of an invasion of Czechoslovakia grew. Therefore, on the border mountains grew...
See more
Suitable for cross-country skiing
Slightly challenging
Suitable for experienced beginners
Difficulty