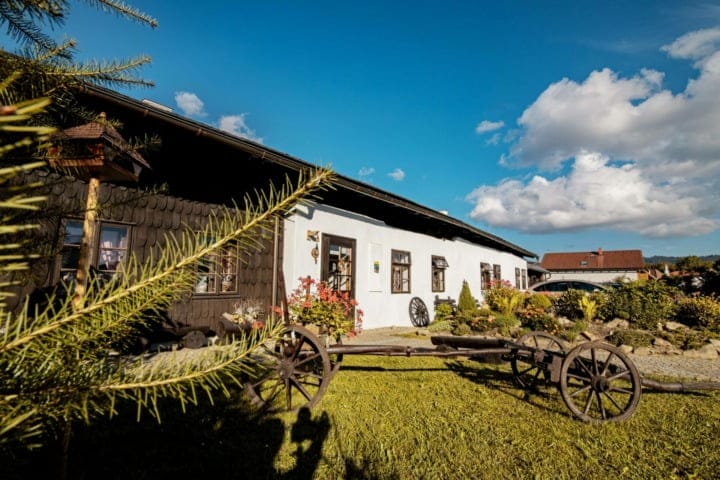 Roubenka in Volare
Pension Sněžná was opened in 2006 by the original owner Mr. Rudolf Bayer and renovated it to its original state, style timbered alpine house according to the original inhabitants of Styria and Tyrol. These are the only guesthouse of its kind in Šumava and its oldest part dates back to the 1800s.
In 2016, the guesthouse was bought from the original owner by friends Jitka and Kateřina, who continue its tradition and have given the guesthouse a relaxed, family atmosphere. You will find here rich breakfasts, where you can enjoy homemade freshly baked pastries, hot dinners and also a self-service bar, where you can enjoy homemade lemonade, beer or wine from Moravia. All this and much more, which does not fit into these lines, will make your stay with us more enjoyable.
Recharge your batteries and come back with a smile.
History of Pension Sněžná
The history of Volary dates back to the 16th century, when cattlemen from Styria and Tyrol settled here. They introduced intensive Alpine-style cattle breeding methods and a unique architecture characterised by its timbered or half-timbered houses.
According to Benes' decrees, the descendants of the original population were removed on 8 May 1946. Among them were also Mrs. Pauline Haselsteiner, née Sauheitl, and the Nagelmüller couple, who owned the guesthouse, originally house No. 41. The house changed several more owners before it was bought in a semi-dilapidated state in 2003 by Mr. Rudolf Bayer at the initiative of Mr. Miloslav Zámečník. Together they saved this unique cultural monument and in 2006 Mr. Bayer opened the beautiful guesthouse Sněžná, where guests can enjoy the unique atmosphere of the old Volary and the mysterious, mythical Šumava.
Do you have a question or want to book a room?
We are happy to help you, contact us or make a reservation. +420 774 343 448